High-end fashion brands like Louis Vuitton, Prada, Gucci are stepping it up a notch with their design and products to bring high-tech accessories to life. The popular brands have collaborated with directors of art and creativity to bring out the best luxury products and to mark the beginning of fashion technology for posterity. 
Just when you thought that you are catching up with the latest fashion trends, here it comes with another stylish blow – high-tech accessories. And yes, these high-end products are as luxurious as they are stylish. 
Brands like the Chanel, Christian Dior, Yves Saint Laurent have also started selling 'fashion tech accessories' and might be a few steps ahead already. From gold lighters to wireless earbuds, even for those that cannot afford these items, it is intriguing to even check what new fashion tech they bring to the market for their high-end customers while discovering potential new talking points of the technology and the fashion industry. 
Yves Saint Laurent – The smart backpack
Yves Saint Laurent the French Haute Couture House has collaborated with Google and has worked closely together to bring the new smart backpack that will come with touch sensors on the strap through which users can control their smartphones. This is a part of Google's 'Project Jacquard' and the smart backpack or the 'Cite -E' backpack has an interactive touch area that can read gestures. The Cite- E can be paired with the smartphone either an android or an iPhone after which the user will be able to access Google maps, control the music, and even take pictures with gestures.
The Cite-E is made of Nylon and will be $1000 (INR 73,607) a piece which is less expensive than their luxurious Ostrich leather skin bag which is sold at $4000 (INR 2,94,428).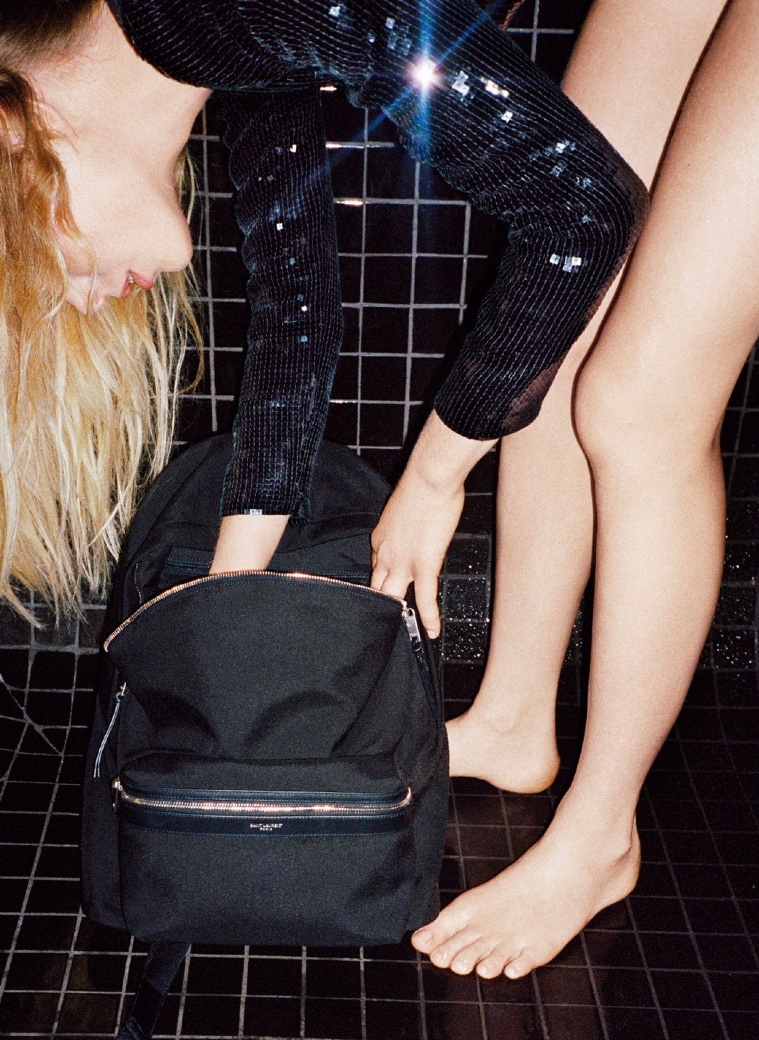 Fendi – A case for smartwatch
Fendi has collaborated with London lifestyle label Chaos to introduce a case for an Apple watch. This creation which is inspired by vintage cigarette cases and gold lighters has the Fendi and the Chaos logo with shimmering gold embedded on the front. The highlight of this unique creation is that it can be attached to the bag or a belt as this accessory is designed with a clip for the 40mm Apple Watch. The price of this item is 490 Euros (INR 43,143).

Louis Vuitton – Wireless Earphones and a Smartwatch
Louis Vuitton has crafted wireless earbuds that provide the listener with ambient listening mode. This creation was designed with Virgil Abloh the American designer who has been the artistic director of Louis Vuitton's men's wear collection since March 2018. 
These impressive wireless earphones come with unique features and one of them is active noise cancellation. The wireless earphones also provide a remarkable 30 hours of battery. These earphones also come with a special charging case with wireless induction charging support. The earphones have been used by many popular celebrities like Miley Cyrus, Sophie Turner, and many other K-pop stars. The price for this high-end piece is $1190 (INR 84,488).
Another luxurious product that the high-end brand has introduced is the Tambour Horizon smartwatch which is popularly made for travelers and golfers. The smartwatch is powered by Google's Wear OS and runs on  Snapdragon Wear 3100 platform. This high-end item also features a 42 mm case and has two popular apps that are available exclusively for the watch: the LV Guide and My Flight. The design is beautiful, sophisticated, and practical. The price of this luxury piece starts from $2,250 (INR 1,65,690) for the basic model while the top-end model is $8,500 (INR 625,690).
Chanel – A case for AirPods Pro
Chanel has introduced only recently the AirPod Pro case that looks like its Classic Double Flap Bag which likely is the inspiration behind the AirPod Pro Case which comes with a rope handle with two clips. This allows the user to be able to clasp it into the purse with a keychain. The AirPod Pro Case is made from lambskin and the current price for it is $975 (INR 71,812). The Chanel case for AirPods Pro comes with CC interlocking and interwoven leather.